Looking for an adventure, Eric and I drove for 2 days from Boston, up to Prince Edward Island, to watch the two minutes of "totality" of the solar eclipse that year. It was worth the journey. It was probably the most religious experience that I had. We went straight to the beach to watch totality approach. We got nervous as it got cloudy just before. But the clouds parted and the "light show" started. Here are my Kodachromes from the day:


Here was the scene on the beach that day, while waiting for "totality."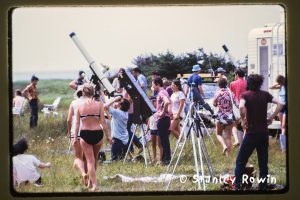 Click photos to enlarge
By the way, according to another photo, gas that day was 36.9¢ per gallon.